Mocambo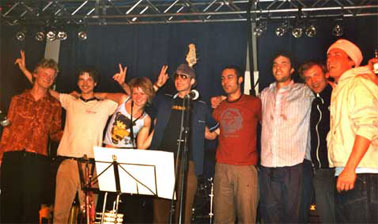 OCAMBO - das bedeutet soviel wie "geheimes Versteck", "Unterschlupf". Im Brasilien des 17. Jahrhunderts waren "Mocambos" kleine Dörfer, die Schutz und Geborgenheit vor bösen Mächten boten. Bis heute gibt es überall auf der Welt solche entlegenen Orte, an denen Menschen sicher vor den Grausamkeiten des babylonischen Alltags verweilen können. Der Schrottplatz der drei Fragezeichen ist zum Beispiel auch ein Mocambo.

Für eine Gruppe junger Hamburger Instrumentalisten wurde schliesslich die Musik zum Mocambo, einem spirituellen Ort, an dem man abseits vom Mainstream-Pop zu experimentieren begann. Frei von dem Verlangen einen Plattendeal zu ergattern, widmeten sich Sascha "Fastfoot" Weise (Drums), Victor "Romantic" Kohn (Bass) , Sebastian "Glamour" Nagel (Gitarre/Space Echo) und Björn "Wahwah" Wagner (Gitarre/Mu-Tron) ab 1996 in erster Linie ihrer grossen gemeinsamen Leidenschaft, dem Funk Š THE BOMB! Grossflächig angelegte Sessions in Jazz-Fusion, Hörspiel-Funk, Space Rock, TripHop, HipHop, Surf usw. erweiterten das Spektrum und bescherten einige wahnwitzige frühe Jam-Auftritte an umliegenden Schulen. Nach und nach fanden sich immer mehr Gleichgesinnte, so dass die Gruppe nur kurze später mit Jan "James Jazz" Würtl an Orgel und Fender Rhodes ans Set ging. Gesangs-Features folgten, doch bald besann man sich auf das alte Sprichwort von Alfs Glitschballtrainer - "Versuche herauszufinden was du nicht gut kannst und dann lass es bleiben!". Allen Unkenrufen zum Trotz ("Ihr seid echt cool aber ihr bräuchtet ne Sängerin") präsentieren sich die MOCAMBO ALLSTARS seither mit Mieke Wenzl (Tenor Sax) und Sebastian "Zap" Drescher (Trompete) als komplette Instrumental-Funk-Band. Damit's live ordentlich kracht spielt Pascal "Bongo Alarm" Dreckmann (Percussion) regelmässig auf Gigs mit.

Mocambo versteht sich keineswegs als feste Band, sondern als Institution. Getreu dem Motto "Es ist nie zu früh und selten zu spät" wird das Line-Up oft durch spontane Features komplettiert, so zum Beispiel durch Felix XL (auf dessen Alben mit City Nord übrigens auch einige Mocambos mit Instrumentaldarbietungen zu hören sind), Danny Kimaz (Hamburgs Funky Querflöte No.1, u.a. bekannt durch Beginner, 5 Sterne, EinsZwo...) und Andreas Günther (Alt-Saxofon).

Die "Fahrvergnügen"-Tournee führte die Allstars bereits durch alle gängigen Hamburger Clubs und zu Auftritten in Bonn und Lüneburg, Höhepunkte waren die eigens organisierte Planet-Mocambo-Party im Abaton und Pferdestall, wo 12 Stunden lang vom Superfly-Movie über Mocambo Live-Auftritt bis zu DJ Fume's Rare Grooves von acht bis acht Uhr Funk zelebriert wurde.

Nach dem Battle Of The Horns auf Kampnagel im Februar 2004 wurde es zunächst still auf dem Planeten Mocambo. Die volle Konzentration lag auf der Gründung eines eigenen Plattenlabels und dem Release der ersten Vinyl Single der Mocambo Allstars, "Fahrvergnügen".

Eine neue Tour (Arbeitstitel "Wer probt hat Angst") ist genauso in Planung, und wenn der Hang zum Autismus nicht gerade mal wieder überhand nimmt, tauchen die Mocambos in unregelmässigen Abständen auf, um begleitet von exquisiten DJs auf Funk-Parties live eine Riesensause zu veranstalten. Neben einigen Arrangements klassischer Funk-Breaks kann man sich auf viele eigene Tunes, Improvisationen und natürlich jede Menge "Demenz im Wandel der Zeit" freuen.





Jam On The Groove - Live 2004 (4:18)
Free Vibes Live Snippets (7:04)
Riff der Haie (3:29)





Jan
Sascha
Mieke
Zap Victor
Pascal
Sebi Björn

www.mocambo.de

<! Trennstrich !>